Vocation Resources
Click the images to visit the Vocation Resource sites listed below
Visit our diocesan website for information about happenings around the diocese, resources for policies, letters from Bishop Zinkula, and so much more!
Have a question about the faith or anything about the Diocese of Davenport? The Chancery Offices are happy to assist you!
Keep up on the news from our bishops across the country. Visit their Vocations section for prayer resources and databases of communities. The interactive Bible is another wonderful resource for study!               
www.DiocesanPriest.com and the National Conference of Diocesan Vocation Directors (NCDVD) are two of our major resources. Without them, our office would have a much harder time reaching out to young men and providing them with reading, podcasts, and networking opportunities as they "date" the priesthood.  These resources aren't just for discerners either!  As you partner with us to foster vocations in your own communities, take a little time to check out these resources to equip yourself in helping a man's discernment.
Visit InvisibleMonastery.com to learn how you can pledge to pray daily or weekly for vocations.
Simply choose the Davenport Diocese, complete your pledge and contact information, and that's it! You are now invisibly connected with a tangible community of people praying for vocations!
After Rhonda Gruenewald and Leticia Ramirez offered their training in our diocese in December 2018, we have seen a jump of activity in the parishes to foster a culture of vocations. Visit their website here for free access to their vast array of resources! Don't forget to reach out to your parish office to ask about the Hundredfold/Sembrando Semillas book to jump start the vocation ministry in your parish.
Serra Spark is an online resource for lay people and Vocation Directors with a variety of curated programs to fit any situation. This compilation is really the "best of the best" from years of feedback from vocation directors, youth ministers, and Serra Clubs around the country.
For your print and digital media needs, look to Vianney Vocations! They specialize in brochures, books, and other vocation promotion and discernment materials to fit a variety of needs. They also do graphic design if you have special projects in mind!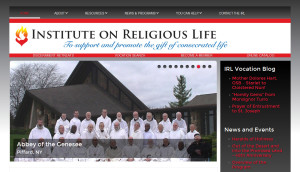 The Institute on Religious Life is a national organization where many religious orders join together to operate general discernment retreats, continued formation, and congregation databases to help discerners connect with a religious community.
The Vision Vocation Network operates as a resource for those discerning religious life to find communities that match what they are looking for. Through compatibility quizzes, location search, and charism directories, discerners can be matched with a list of religious orders that might be a good fit for them. It's also a great way for non-discerners to learn about the different charisms and order to support discerners in their community!